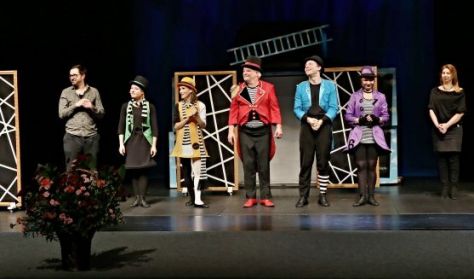 4
BAJKA O KOCIE W BUTACH
od 4 lat
Nincs aktuális előadás
Ön egy múltbeli eseményre keresett rá. Kérjük, válogasson aktuális kínálatunkból a Jegy.hu keresőjében!
Last event date: Tuesday, November 08 2022 10:15AM
premiera 6 marca 2020 r.
adaptacja i reżyseria - Ireneusz Maciejewski
muzyka - Łukasz Pospieszalski
scenografia - Dariusz Panas
ruch sceniczny - Marzena Biesiadecka
dekoracje i lalki - Eliza Wtorkiewicz - Kaleta, Janina Handzel - Karpus, Piotr Piotrowski
obsada
Agnieszka Kwiatkowska
Urszula Tylek
Krystyna Kachel
Piotr Serafin
Łukasz Łęcki
Warning! The basket time limit is about to expire!
estimated time left:
00:00
Time limit has expired. Please, put item(s) in to basket again.
---